Harmonica Holder - How to Play Harmonica and Guitar together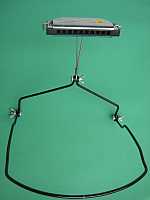 The harmonica holder is often used by guitar player/singers. Most use it sparingly, finding it difficult to coordinate the harmonica and guitar. Being a harmonica player, I can show how to use the harmonica holder better. Included below is my advice on buying and setting up the harmonica holder, and lessons for using it.
Buying the right harmonica holder and setting it up properly are the first steps to using it successfully. Click here for advice on which harmonica holder to buy as well as how to set up the harmonica holder.
Once your harmonica holder is orgainsed, then try this first harmonica holder lesson. It assumes little or no harmonica backgound, and basic guitar skills
Then try this harmonica holder lesson on blues. It assumes you can play a two hole draw note as well as bend notes.
The harmonica holder is a hidden area of musical endeavour. A little work will go a long way, partiuclarly because not many use it well. Master the harmonica holder, and your new found talent will be treasured all the more because it is rare.